Follow these 4 simple steps and be on your way towards relaxation and pain relief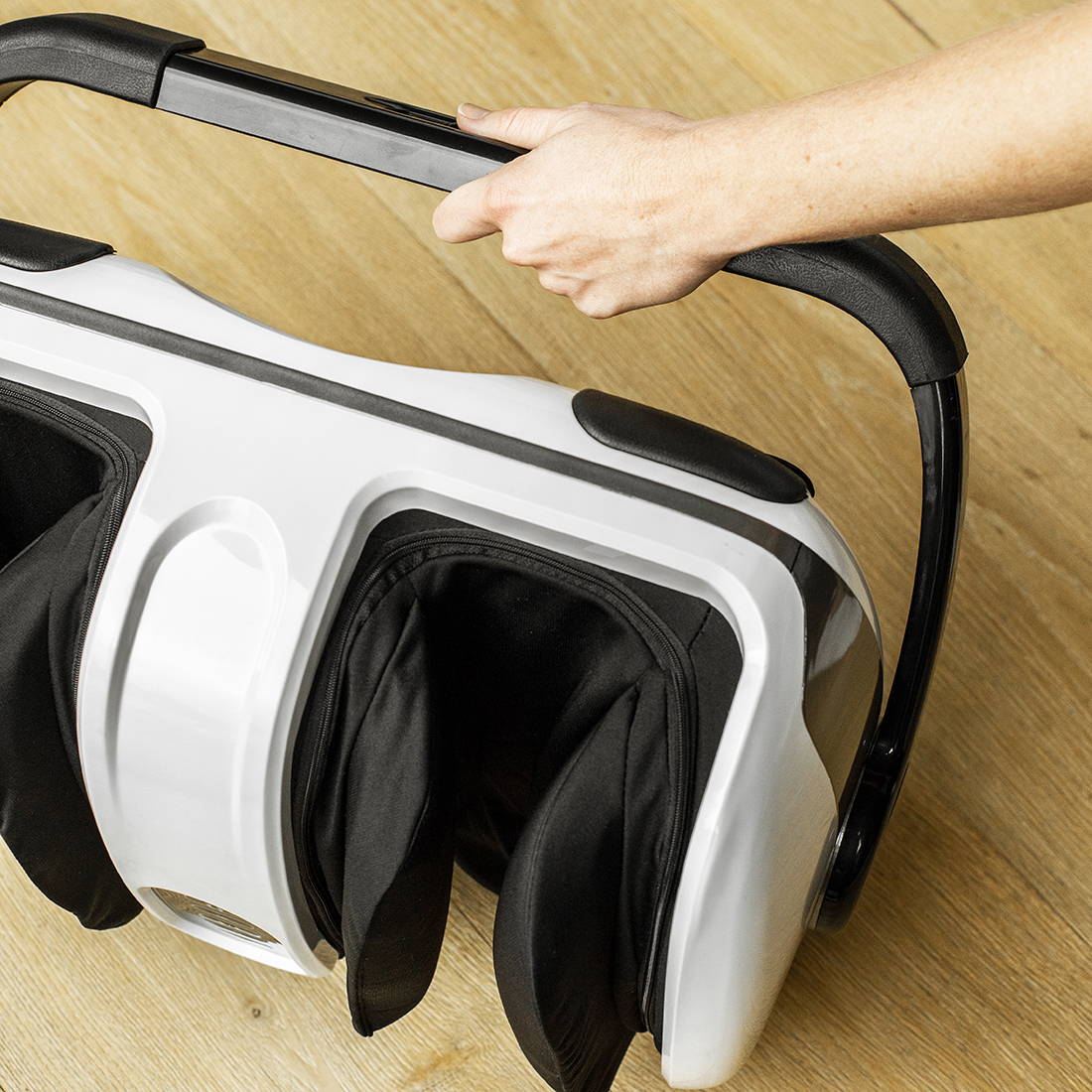 Plug in the power cord and adjust the bar to your preferred position.
Put on socks, then place your feet, ankles or calves into the machine and turn on the power.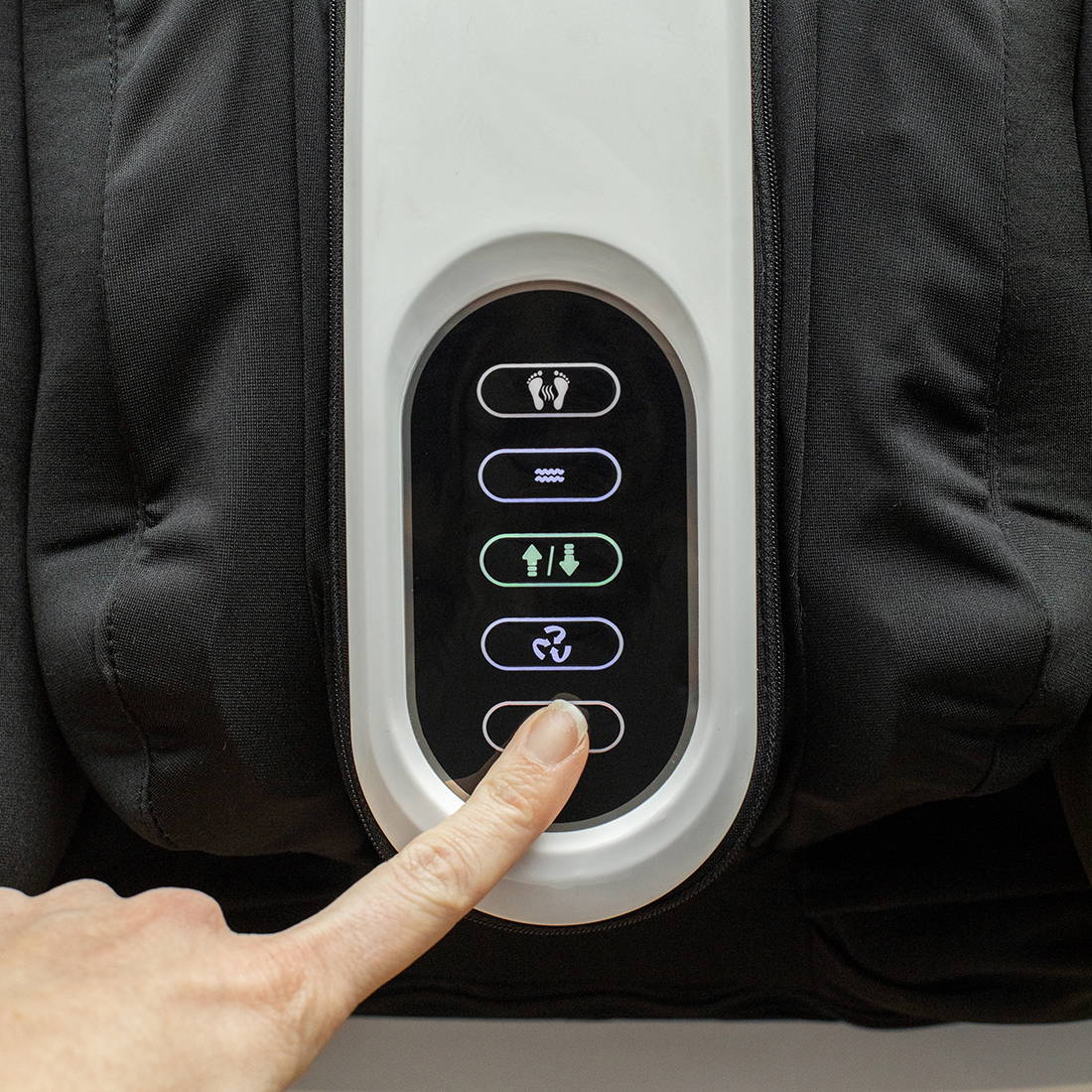 Choose your preferred massage mode and intensity level of the massage. We recommend that you start at the lowest intensity setting and adjust accordingly.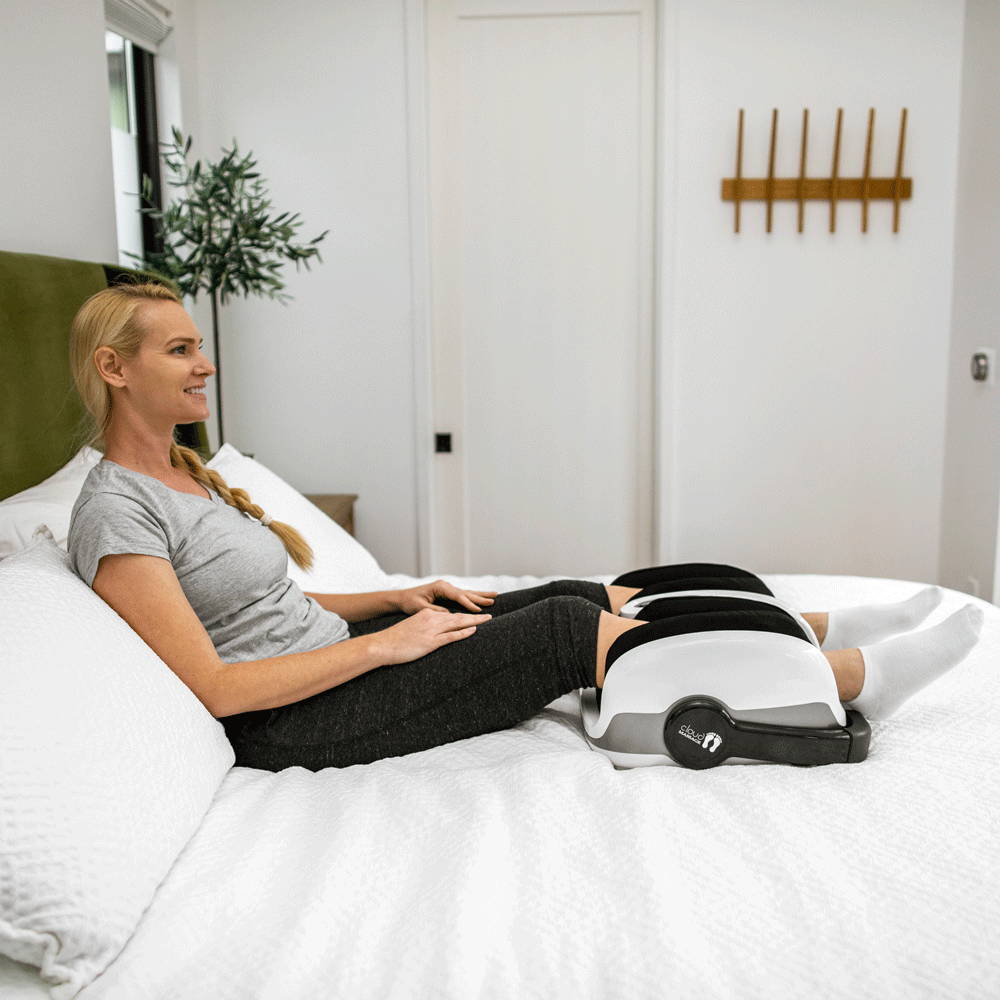 Sit back, relax, and enjoy a full massage of your feet, calves or ankles!
Best Practices

Foot Massage

Calf Massage
(a) Occasional User: If you have some discomfort in your feet (general soreness) after a long day of work or exercise but in general do not have foot pain on a day where you do not exert yourself, then simply use the Cloud Massager as needed for a cycle (programmed for 15 minutes.)
(b) Ongoing Pain: If you have discomfort in your feet daily whether at work or rest then consider using the Cloud Massager 2-3 times a day. The best times to encourage blood flow/circulation is first thing in the morning and before bed. If you want to use it a 3rd time throughout the day then 6-8 hours into your day or after work is optimal for a 3rd massage.
(c) Intense Pain: Intense pain associated with certain medical conditions will require working up a tolerance while working on the issue at the same time. This will require a level of commitment. If you find that the massage is too intense for you, you can adjust to the lowest intensity setting, no pressure setting, and no rollers setting. You can also wrap your feet with a towel for even less pressure. If you are committed to significantly reducing/eliminating your discomfort, you can work your way up from zero intensity to extreme intensity!
For best results, we highly recommend wearing socks during foot massages. Place the massager far enough from you while sitting so that your legs and feet are extended and rest in the massager. If you have the massager too close to you, this will result in the rollers giving you a massage on the bottom of your feet that is too intense as a results of the weight of your legs and feet putting pressure on them.
Let the massager do the work. There is no need to push your feet into the massager. Simply rest them in the saddle and let the Cloud Massage do it's magic!
The optimum calf massage can be achieved while lying in bed or sitting on a chair/couch with your foot massager on an ottoman.
When using the Cloud Massager for a calf massage, the heel cuffs do not need to be considered. Meaning you can orientate your massager either way you like and simply rest your calves in the foot sleeves.
When lying flat and receiving a Cloud Massage calf massage the weight of your legs provides ample weight to "push into the rollers" for a deep penetrating massage.
While you can also achieve a calf massage at different angles , as the angle increases the pressure on the molded nodules will decrease. For example, if you want a calf massage while sitting in a chair, your calves will be exerting no pressure on the nodules and the amount of exposure your calves receives to the massage area will be limited by the floor.
Caution: The Cloud Massager weighs 24 pounds. During the massage the massager may move slightly as a result of all of the dynamics of the massager. While the Cloud Massager features rubberized gripping feet (to prevent sliding) be sure that the massager is not close to the edge of a ottoman/footrest while in use.
Our responsive customer service team is 100% committed to ensuring the best experience possible when purchasing a massager. If you have any questions about how to use your Cloud Massage massager, please contact us and we will respond within 24 hours!